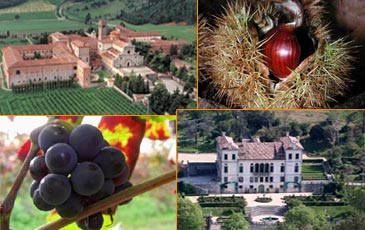 The area is also rich in history, with the first settlements and the establishment of Este and Padua by the Veneti whose testimonies are given to the National Museum Este Atestino Padua and the Museo Civico to Eremitani.
To visit the medieval fortified city of Monselice, Este and Montagnana, the numerous monasteries, including one on Mount Rua and Praglia; the village of Arquà Petrarca, who hosted the poet in the last years of his life.
From the XVI c. Euganean Hills and surrounding plains became Venetian resort of patrician families, that here fixed their summer residence and built numerous villas, and among these, those designed by Andrea Palladio
Nearby, some old quarries, already active in Roman times, with the remains of the kilns that transformed the limestone hills in precious construction material, praised also by Andrea Palladio (to visit the nearby museum of the furnace of Cava Bomba).
The products of the Euganean Hills reached Vicenza, Padua, Venice, by means of a dense network of canals and navigable rivers, active since ancient periods, and whose history can be followed in the nearby river Bacchiglione museum in the Castle of S. Martino, and the Museum of river navigation at Battaglia Terme.